Hello dear readers! When Leanna (All done Monkey) told me that a post about Geography was authorless for the end of October, I jumped on the occasion to talk about my home country, France. In a fun way, because French people are not known to be boring… (right?)
For two weeks I had the great pleasure to travel across the country to see some family members and friends: Paris, Toulouse, Perpignan, Chateauneuf-sur-Loire (near Orléans). As you will see on the map below, it was quite the journey with our two young children in our car – loaded with luggages, of course – under a mostly blue sky and high temperatures for the season. We had 28°C one day! It made me rather nostalgic of my childhood's mediterranean weather. The land of Hessen, Germany – where I live now – can have beautiful sunny days, but overall it's colder and greyer than in Perpignan.
Paris:
How many people are surprised to discover that the streets in Paris are not all flat and wide as the Champs-Elysées? Well, to tell the truth, even the Champs-Elysées is a sloping street… If you rent some Vélib' – the biggest bike-sharring in the world – you will feel the climbs and descents, and most of all the "faux-plats" (false sense of flatness). During my stay, we strolled through Montmartre which is one of Paris' hills.
7 hills can be found on the right river bank of La Seine: Montmartre (131 m), Belleville (128,5 m), Ménilmontant (108 m), Buttes-Chaumont (103 m), Passy (71 m), Charonne (69 m) and Chaillot (67 m); and 4 on the left bank: Montsouris (78 m), Montparnasse (66 m), Butte-aux-Cailles (63 m) and Montagne Sainte-Geneviève (61 m).
I have walked around all these hills while I lived and worked there. My daughter was born near Montsouris (there's a park on this hill), my children played in Belleville's playground or in the park atop the Buttes-Chaumont, we visited the Père-Lachaise (one of Paris famous graveyard) in Ménilmontant, the hill Charonne reminds me of my ophtalmologist (the best I had so far) who worked near the metro station "Charonne", I took the train several times to meet my grand-parents at Montparnasse's train station, we ate some crêpes at the Buttes-aux-Cailles, visited the Panthéon situated on the Montagne Sainte-Geneviève, ran to take the "Metropolitain" at Passy after a spouses' night out, kissed during New Year's Eve at Chaillot, and of course visited the Sacré-Coeur in Montmartre!
If you want to see the topography of Paris, I will recommend you to go on topographic-map.com where you will be able to have the altitude of each street of the French capital city… and whatever place in the world you would like to discover!
On the road near the South: While we were on the road to Toulouse, we drove near the Gorges de l'Aveyron. We didn't go there but look at these landscapes! It's on my to-do list of places to visit in France! Not flat at all, isn't it?
Video taken at a highway rest area near Cahors "La Combe du Tréboulou":
Pyrénées-Orientales: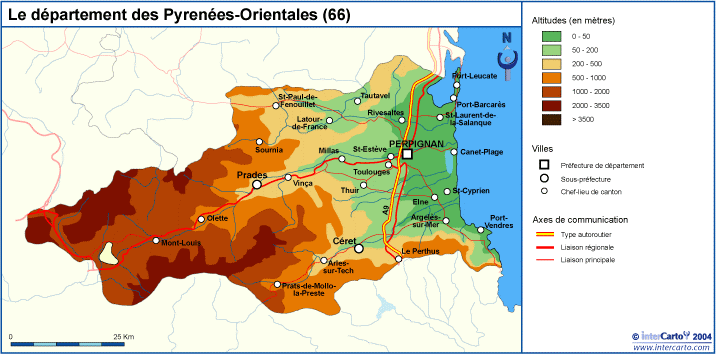 Céret is my hometown. I grew up there from 18 months to 18 years old. The town is built near the valley of "Le Tech", a river coming from the mountains and finishing in the Meditteranean See.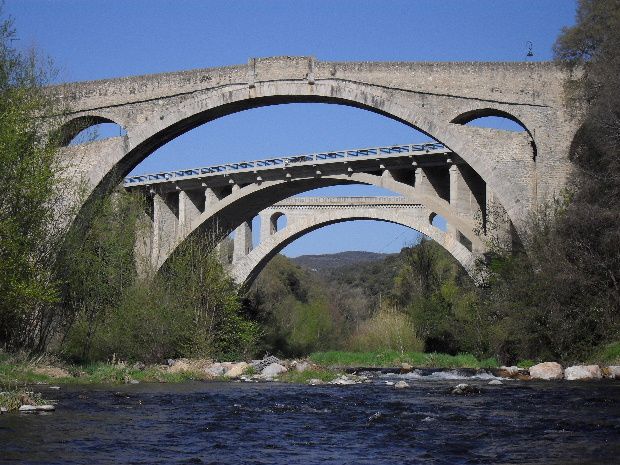 Going on small treks in the surrounding mountains was a common activity during my schoolyears. Pic-nics at the Falls, walking to the , or climbing the are part of my childhood memories.
Força Real, hermitage at 507 m heigh and a radio telecommunication relay on the nearest peak, was a new spot for me. I never visited it when I was a kid. I'm glad we did it with my son and husband (my daughter was napping in the car on the parking lotand we had to take turns to go on the top). They had a wonderful view of a part of my region.
Massif Central: it's one of the oldest mountains ranges in France.
We drove through it on our way to see my father. We took some much needed air at the small rest area "Marvejols". It was windy and the sun was covered by the clouds, however we enjoyed the sight!
I could tell you about all the other hills, mountains and peaks we have in France… althought it would be a bit too long for this post. However, if you're up for another in a near future, I would be glad to show you more of my definitly not flat country! Meanwhile, I hope you will enjoy our MKB Geography Month which is starting today.
The following two tabs change content below.
As a French woman living in Germany with her husband and her three young children, Eolia enjoys to discover the German way of life while keeping her cultural French roots alive for her family. She blogs about her passions, her faith and what she discovers around her at La Cité des Vents.
Latest posts by Eolia Disler (see all)