Celebrating Native American Heritage Month This post is part of the Native American Heritage Month Blog Hop & Giveaway – see details below! Pow-wows are a wonderful way to experience the beauty and diversity of Native-American culture.  They are held all over the USA and if you're hearing about one from a newspaper write-up, community calendar, flyer or sign, then they are open to the public and you are welcome to attend.  Best of all, a pow-wow in your area will probably be sponsored by a local tribe or group, so you can not only learn more about Native people in general, but also the region's tribes and your own community history as well.
What is a Pow Wow? Wikipedia says that the word pow wow (also written as pow-wow and pow wau) comes the Narragansett word powwaw, meaning "spiritual leader".  I have always heard that it means "elders or gathering of elders".  Whatever the exact original meaning, over time a pow wow has come to mean a gathering of not only elders, teachers and leaders but a general community celebration of Native American culture and heritage.
What Will You See At A Pow Wow?   Although customs and practices vary from place to place and tribe to tribe, you'll almost always see a large, beautiful dance circle, a tent or place for drummers, a master of ceremonies and a variety of booths for crafts, food, books, jewelry, handcrafts, cultural information and other goodies.  Then you'll see the dancers.  If you arrive for the grand entry that officially opens a pow wow, you'll see that veterans are honored by entering the dance ring first.  After that, the eldest dancers in traditional clothing, then the eldest dancers in modern regalia and younger dancers follow in the same manner, entering by age.  In most pow wows you'll see lots of dances that are open to all dancers, some open to all visitors and some fancy dancing exhibitions (like jingle dancing, hoop or grass dancing) plus a variety of contests and presentations as well.
What Are The Dancers Wearing? If you are wondering what to call the beautiful outfits that you see on the dancers, they are called regalia. The word "costume" is not used and is offensive to some.  What are they made of, who made them and what do they mean?  Almost all dancers love to talk about what they are wearing when they are outside the dance ring.  If you have a question, stop them and ask politely and you will really enjoy what you learn.
Can You Dance At A Pow Wow? If you listen to the MC or master of ceremonies, there are usually many opportunities for visitors to come into the dance ring.  And these are usually dances that are very easy to learn with simple steps so that you can "learn as you go".  In our area, there is almost always a "candy dance" where all kids are invited into the ring.  In order for the kids to get the candy, they must be very good listeners and follow the dancer's instructions.  This was always one of my children's favorite dances and also a fun lesson in learning to listen!  Smart, huh?
When in Doubt, Ask Politely. In general, it's not considered acceptable to take photos of dancers while in the ring.  However, if you'd like a photo or want to learn more about someone's regalia or traditions, ask politely.  They are usually very happy to speak with you and I've rarely heard a dancer say no to a photo when asked in a kind and considerate way.
What Can You Eat? Wander around and see what is available to eat.  Foods vary from place to place and might include things like the usual hamburgers and hot dogs as well as more unusual items like buffalo burgers and elk stew.  In our area, we all love "Indian Tacos" which starts with fry bread on the bottom and add lots of delicious taco toppings.  What's fry bread?  It's like a Native American version of funnel cake.  It's deep fried, delicious and rather unhealthy but really good as a treat at a special event! Below are some links and resources where you can learn more about pow wows, pow wow drums and other beautiful Native American traditions and customs. Links And Resources
Pow Wows.com – Calendars, Info and Even a Pow Wow TV! Hear a Pow Wow Drum Color a Pow wow Drum Make A Drum Beater 
 All About The Talking Feather 
 Teaching Kids the Wonderful Diversity of American Indians (Excellent article by Bernhard Michaelis of Native Child)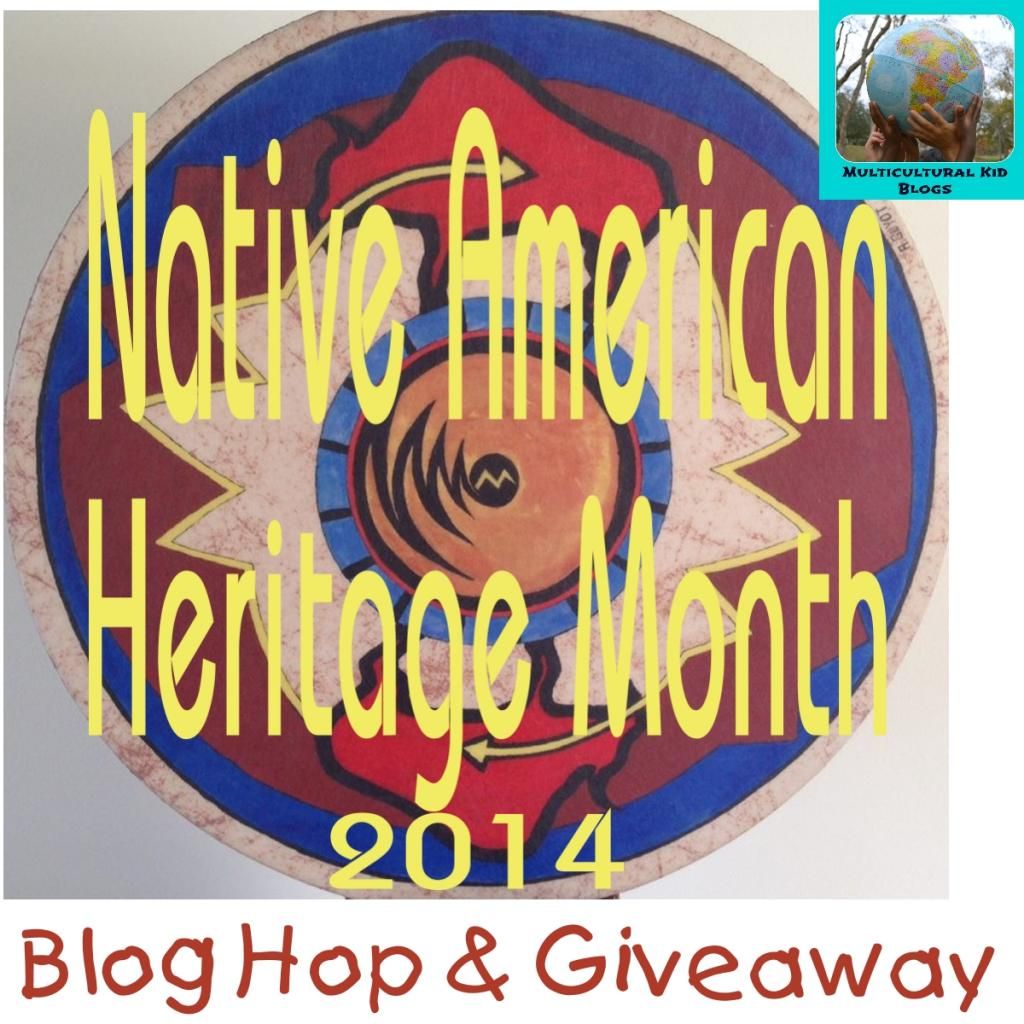 Multicultural Kid Blogs is proud to host the first annual Native American Heritage Month Blog Hop & Giveaway!  Link up your posts on Native American cultures below, and be sure to enter to win one of our great prize packages! For more great posts about Native cultures, be sure to follow our Native/Indigenous Cultures board on Pinterest!
Co-Hosts
November 3:
Daria's Music on Multicultural Kid Blogs
November 6:
Marie's Pastiche on Multicultural Kid Blogs
November 7:
November 10:
Discovering the World Through My Son's Eyes
November 13:
Our Giveaway
1st Prize Package US shipping only
From Wisdom Tales:
Children of the Tipi: Life in the Buffalo Days, edited by Michael O. Fitzgerald
The Otter, the Spotted Frog & the Great Flood: A Creek Indian Story, retold by Gerald Hausman
Native Americans, by James Lagomarsino, donated by Discovering the World Through My Son's Eyes
2nd Prize Package
From Lee & Low Books:
Giving Thanks: A Native American Morning Message, by Chief Jake Swamp
Buffalo Song by Joseph Bruchac
Jim Thorpe's Bright Path, by Joseph Bruchac
3rd Prize
Postcard set from Paper Papel Papier: pack of 12 craft postcards decorated with the word himdag (value $18).  Himdag is from the O'odham ñiok language of the Tohono O'odham Nation in Arizona and northwest Mexico.  To embrace Himdag is to walk in balance, alone, with others, with nature, and with the Creator.
Native American Cultures Linkup
Now it's your turn to share!
The following two tabs change content below.
Educator and world music children's performer DARIA (Daria Marmaluk-Hajioannou) has spent over two decades performing in the USA and around the world, creating music to inspire all the world's children. Along with numerous national awards for her culturally diverse music, Daria's website (
www.dariamusic.com
) was given a Parent's Choice Award and offers many great resources for teachers, parents and kids of all abilities.