101 Tips for Preschool At Home by Adriana Zoder – available on Amazon.com in Kindle format or paperback.
Visit the blog
Books
This unique step-by-step guide will show you powerful principles, simple solutions, exciting benefits and dependable routines to homeschool so that you can reap guaranteed results – children who are excited about learning! Whether homeschooling was always part of the plan, or you are just toying with the idea for the preschool years, this book will provide you with effective strategies. What are the best educational toys? What should be my objectives? What about socialization? Is there a preschool curriculum that's better than others? Get answers to these and other frequently asked questions regarding homeschooling through the preschool years. Written by a homeschooling mom of two young children, this collection of preschool methods, curricula, toys, objectives, essentials and more draws on scientific research, as well as on personal experience.
Books
2 Kurious Kids is a five-book series that teaches children, between the ages of birth and eleven years old the basics about different cultures and languages.  The five books include China, Mexico, France, India and Egypt.
——————————————-
Books
Be Bilingual is a recently published ebook that combines real-life parenting with the latest research on raising bilingual children. It is full of practical, creative, and fun ideas that show families how to make multilingualism work in their busy lives. Families from all around the world have contributed by sharing their best resources and tips on how to make growing up with two or more languages an enjoyable experience.
Parent friendly and informative, the book has ideas for families across a wide range of different multilingual situations: mixed-language marriages, expats, international adoption, single parent- and trilingual families, and parents who speak a non-native language to their children.
Reviews by other MKB members: Bilingual Monkeys, The European Mama
——————————————-
Best4Future Bilingual/Chinese Bookstore
Visit the blog
Books, Music, Toys, Paper Goods
Our Chinese/bilingual bookstore provides quality Chinese/bilingual books, textbooks, dictionaries, CDs, DVDs, softwares and games for children and parents.
——————————————-
Visit her blog
Music, Specialty Cards, Prayer Beads, Prayer Covers
I mainly release music CDs which are mostly devotional in nature from the Bahá'í writings ('Melodies of the Nightingale', 'Melodies of the Nightingale for the family', 'Fire and Gold', 'Birds of Love') although recently I released 'Glimmerings', a piano instrumental CD and 'Edge of Forever', a CD which was inspired by the Writings based on spiritual themes.  I also design products which include water pearl prayer beads, Chinese silk prayer book covers and hand-made cards for Holy Days and special occasions. The purpose is to create beautiful products to enhance one's spiritual experience.
——————————————-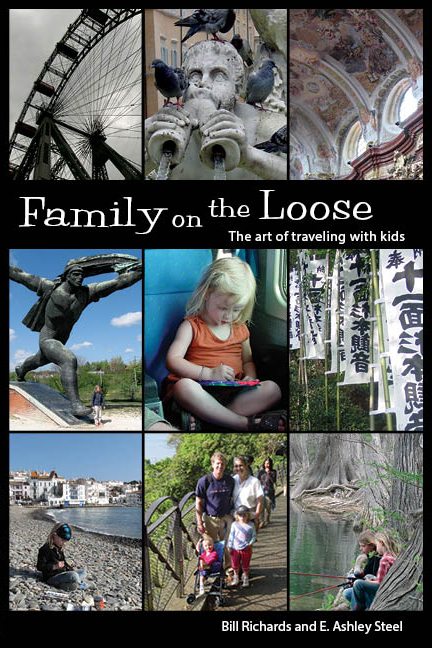 Books
"Family on the Loose: The Art of Traveling with Kids" will help you plan, enjoy, and capture endless adventure with your family. The book is intended for well-seasoned travelers and newbies alike who enjoy being with their children, want to enrich their education, and are excited to discover, as a family, the vast and unique experiences this world has to offer.
Our book offers hundreds of easy-to-use ideas for:
– Teaching your kids to pack themselves
– Having fun at the airport and on the plane
– Easing jetlag and schedule changes
– Involving everyone in setting itineraries and expectations
– Making museums and tourist stops engaging for everyone
– Enriching your travel experience through journaling
– Keeping the joy of the journey alive long after your return
– Discovering cultural education in your own back yard
——————————————-
Growing Up Global: Raising Children to be At Home in the World
By Homa Sabet Tavangar
Visit the blog
Books
Growing Up Global: Raising Children to be At Home in the World helps parents to raise children with a global perspective. Not all families can travel overseas to expose their children to world cultures, but they can start engaging with the world right in their own home communities. This hands-on book helps to begin that process.
——————————————-
Books
eBooks include:
Salve Made Simple: Heal Skin Ailments Naturally With 30 Simple Salves
Coconut Oil For Your Skin – Nourishing Your Body From The Outside In
A Collection of 66 Simple, Gentle, Nourishing Recipes Your Entire Body Will Love
Cooking With Coconut Oil: 68 Simple, Delicious, and Nourishing Recipes To Help You Get More Coconut Oil Into Your Diet
——————————————-
Yoga Books for Kids

Our yoga-inspired children's books are unique, fun, interactive, and educational gifts for a 3 to 8 year olds that will spark their creativity and get them into action. Kids Yoga Stories introduce you to engaging, international characters who will get your child laughing, moving, and creating. Reading is good for the mind AND body!
Reviews by other MKB members:  Crafty Moms Share, Discovering the World Through My Son's Eyes (Luke's Beach Day), Discovering the World Through My Son's Eyes (Sofia en Una Aventura), Toddling in the Fast Lane, The European Mama, All Done Monkey, Moms Gone Global, Vibrant Wanderings, Spanish Playground
——————————————-
Lucy Abdullah
Books, Clothing, Toys
I am children's book author who writes about a little Indian Princess who travels the world meeting new people and learning along the way.
——————————————-
Visit the blog
Clothing
Mixed Up Clothing is a multiethnic children's clothing line inspired by the textiles, cultures and people of the world, to develop friendships through fabrics. Sonia infuses ethnically diverse styles with cultural twists, blending materials and designs from all corners of the earth.
——————————————-
Visit the blog
 Clothing, Paper Goods
At MotherTongues, we believe in celebrating life-affirming words and concepts from diverse cultures. We print these words on the best quality Fair Trade, organic cotton t-shirts, so that you can feel good wearing it. All t-shirts, tote bags, aprons and scarves are 100% organic cotton, made with fair labor. Pick a word(s) that speaks to you, and enjoy as it becomes your mantra while wearing it.
——————————————-
Visit the blog
Paper goods
Eco- and multilingual- friendly custom paper designs: wedding invitations, greeting cards, notepads, stationery.
Send words, celebrate cultures, languages and diversity.
Reviews by other MKB members: The European Mama
——————————————-
Digital Download
Los Pollitos – Digital Download of a story and coloring book
Includes:
• 6 story pages/coloring pages with text
• 7 cut-outs for stick puppets and other activities
• Picture cards for games
• 6-page Teacher and Parent Guide with suggestions for using the materials and additional activities
——————————————-
Clothing
Wool and bamboo pants for the children in your life.  Totally sustainable, totally comfy cozy – hand made 100% with love.  🙂
Reviews by other MKB members: All Done Monkey