Disclosure: This post contains affiliate links. If you click through and make a purchase, Multicultural Kid Blogs receives a small commission.
Emmanuel's Dream: The True Story of Emmanuel Ofosu Yeboah
Written by Laurie Ann Thompson, illustrated by Sean Qualls
Emmanuel's Dream tells the remarkable true story of Emmanuel Ofosu Yeboah and how he changed the society of Ghana by empowering those with disabilities. Born in Ghana with a deformed leg, people saw the boy as useless and even a curse. His father left the family but his mother, Comfort, stood by Emmanuel.
She told her son that he could get anything but he would have to get it for himself. So Emmanuel learned  to crawl and hop, to fetch water and climb trees. His mother carried him to school every day until he got too heavy. From then on Emmanuel hopped two miles to school and back every day. He learned to play soccer and ride a bike.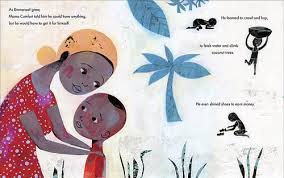 When his mother got sick, 13-year-old Emmanuel went to the city of Accra all by himself to earn money for his family, working in a restaurant and shining shoes. After two years he went home to be with his mother when she died.
"Be respectful, take care of your family, don't ever beg. And don't give up."
His mother's last words inspired Emmanuel to follow his – seemingly impossible – dream to bicycle around Ghana. He found a sponsor for a bike, a helmet and other cycling equipment, and even managed to get a royal blessing from the king.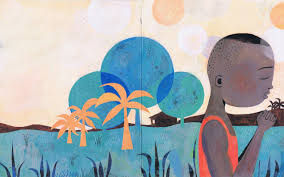 In ten days Emmanuel pedaled 400 miles across Ghana, through bustling cities, over rolling hills and across muddy rivers, followed by a support taxi with his best friend and supplies. People everywhere cheered him on and many disabled people left their houses for the first time to meet him.
Once thought of as useless and cursed, Emmanuel was now a national hero.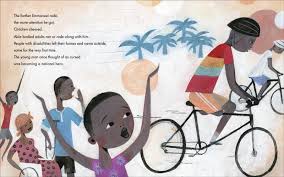 With powerful text and and bold ink-and-watercolour collages, Emmanuel's Dream is an inspiring book about resilience, perseverance and overcoming adversity. It gives children the universal message that disability does not mean inability.
The book includes an author's note and is suitable for ages 4 to 8.
Emmanuel Osofu Yeboah's life story was also made into an award-winning documentary, Emmanuel's Gift, narrated by Oprah Winfrey.
Welcome to our Olympics for Kids series! The Olympics are a wonderful opportunity to teach kids about the world and explore cultures together.
Today, you can find more about other travel posts about various countries thanks to our participating bloggers:
Book review: Emmanuel's Dream: The True Story of Emmanuel Ofosu Yeboahw – Multicultural Kid Blogs
Latino Kids Lit Featuring Mexico – Mommy Maestra
Children's Books Featuring Chile – La Clase de Sra. DuFault
5 Popular Dutch Children's Books – Expat Life with a Double Buggy
Kids Books Set in Jamaica – Kid World Citizen
Children's Books Set in South Africa – Colours of Us
Children's Books about the Amazon – Hispanic Mama
Portuguese Favourite Books for Under 6's – the piri-piri lexicon
Explore Brazil with Your Child: Read, Cook, and Craft – Pack-n-Go Girls

Don't forget that you can also download our
Summer Games Unit
activity pack to learn more about the world and have fun during the Olympics.
Save
The following two tabs change content below.
As an adoptive mom of a little African girl I am always searching for children's books that reflect the diversity of our world in an empowering and non-stereotypical way. I have created Colours of Us (www.coloursofus.com), a blog and resource website about multicultural children's books.