This post is part of the Native American Heritage Month Blog Hop & Giveaway – see details below!
In honor of the Native American Heritage Month, I'd like to introduce you to the Mi'kmaq (also known as MicMac), the earliest settlers of my home province of Nova Scotia, Canada.
The term "Mi'kmaq" means 'my kin friends'.
The Mi'kmaq are a First Nations people living in parts of Canada's Atlantic provinces (Nova Scotia, New Brunswick, Prince Edward Island, Newfoundland), Quebec and in the United States, in Maine, New England with a population of roughly 20,000. Approximately one third of this population can read, write and speak the Mi'kmaq language.
The Mi'kmaq have lived in Eastern Canada for over 10,000 years. You can read more about how the Mi'kmaq historically lived here.
The Mi'kmaq were, and are, creative craftspeople. Traditional everyday use items are now considered unique art. Birch bark canoes, beaded clothing and woven baskets are celebrated traditional handicrafts. The Mi'kmaq were especially well known for the unique craft of porcupine quillwork.
Quillwork is a traditional art in which porcupine quills were used to embellish clothing, accessories and containers of birch bark. Because of the skilled and intricate quill work, the Mi'kmaq were often referred to as "the porcupine people". After 1750, decorative objects with quillwork were a major source of income, whether traded as barter or for money. Today, only a handful of artists continue this traditional handicraft. You can see more examples of beautiful quill art here.
Porcupine quills, as seen below, are naturally white with black tips. Once removed from a hunted porcupine, the quills are cleaned, sorted by sized and then are used either naturally or dyed in various colors. Sometimes the quills need to be flattened and most often moistened prior to use.
The artisans who we have seen continuing this traditional handicraft have been making birch bark quill boxes. The photo below shows the lid of a birch bark box being worked with quills. To insert the quills into decorative patterns, the bark is first perforated with an awl. The quills are threaded through the holes, and the moistened quills stiffen into place as they dry. The ends of the quills on the underside of the work are either folded over or snipped off, depending on how small the holes are and how tightly the quills are held.
A common decorative pattern on birch bark boxes is the Mi'kmaq Eight Pointed Star. This star has been used for centuries as a symbol of the sun and has several meanings. Seven of the points represent the seven districts of the Mi'kmaq nation, while the eight was included in the 18th century to represent an alliance then established with Great Britain. The star also represents the four cardinal directions (North, South, East, West) and all those in between. The four colors, Red, Black, Yellow and White, represent the "four races of people". When the star is made with the four colors, it represents togetherness and unity with all nations. It was a common symbol in 19th century quillwork, and continues to be popular in contemporary Mi'kmaq artwork and design.
Make a Mi'kmaq Quill Box Inspired Craft
This craft is one way to explore the Mi'kmaq culture with kids. After looking at various examples and a close up of porcupine quills, have them make their own quillwork box to hold their treasures.
What you need:
One box. The one we used is 6″ x 6″
Toothpicks. To create the 8 pointed star pattern,  you will need at least 16. Then it depends on what patterns you want to create. I recommend having extras just in case.
Acrylic paint and paintbrush. Any color you'd like, but we used the 4 colors to represent the 4 nations: black, red, yellow and white.
Clear drying white glue.
Directions:
You can start off by painting a bunch of toothpicks (what we did) and determine your pattern from there, or design first so you know how many toothpicks you'll need. Be sure to paint a couple of extra toothpicks for each color, just in case. The wood absorbs the paint fairly quickly so they don't take too long to dry. By the time we got to our fourth color, the first was dry. Do make sure they are dry before using them. This is a great task to share – with each person choosing one color to paint. It's also a great time to talk about the symbolism of the four colors (as above).
2.  Prepare the toothpicks for the eight pointed star design. For each color (2 points of the star), you need 4 painted toothpicks. To "cut" them to size, we simply used our hands to bend and break them. They break rather easily, and you don't need to be precise. With the four toothpicks of each color,  break two in half and save the three best pieces. For the other two, break them in approximately three equal pieces. Save the four smaller pieces that turned out the nicest. Once "cut" to size, for each color you will want 3 longer pieces and 4 smaller pieces, as pictured below.
3. To make the eight pointed star design, start by creating a cross with four right angles using the longer pieces, as pictured below in the top images. To glue the toothpicks, run a bead of glue along the length of the stick. It's very likely glue will pool around the edges, and you can clean that up by gently scraping it away with a regular toothpick. Or leave it to dry clear. Then take the third longer piece and glue it diagonally in the center of each right angle, as pictured bottom left. Finish the points with the smaller pieces. I recommend placing two at a time first to align them, then glue them in place in order to get the angle right. And there you have it. Feel free to embellish the lid any way you like.
4. Create a design on the sides of the box. Be sure the toothpicks do not get in the way of the closed lid. With the striped pattern we did, rather than bead the glue along each toothpick, we only did it for the bottom stick and then dabbed glue on the box. The toothpicks were then placed on over the other in the glue. It's easier than one at a time.
And you have a completed "quillwork" box, to hold your treasures.
Cultural events and hands on activities are fun ways to get to know the diverse cultures that have and continue to shape the region we live in. I hope you've enjoyed this small look into the Mi'kmaq culture.
About the Author
Marie-Cl
aude is the parent of two teen girls. Over the years, they have immersed themselves virtually in various cultures. This year they have been exploring the cultures of West Africa, which is being chronicled on her blog at mariespastiche.blogspot.com.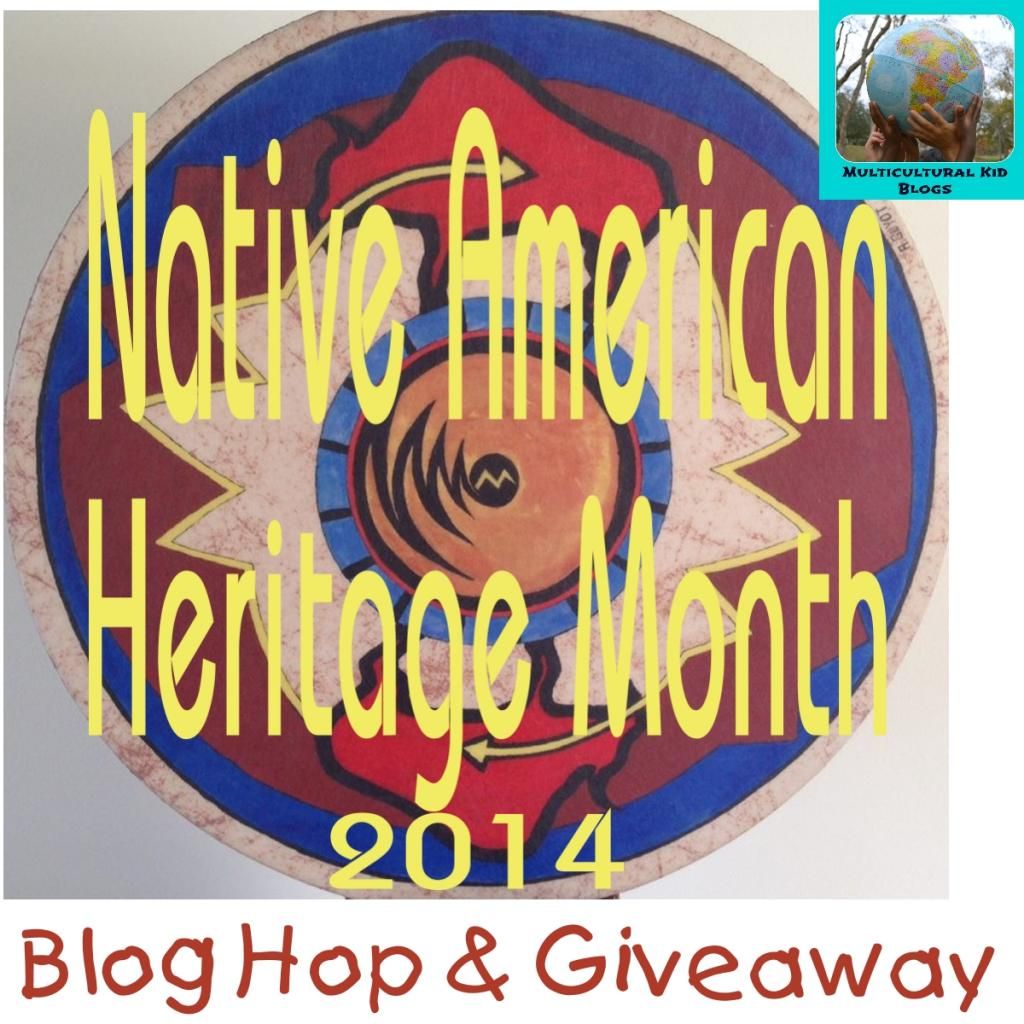 Multicultural Kid Blogs is proud to host the first annual Native American Heritage Month Blog Hop & Giveaway! Link up your posts on Native American cultures below, and be sure to enter to win one of our great prize packages!
For more great posts about Native cultures, be sure to follow our Native/Indigenous Cultures board on Pinterest!
Co-Hosts
November 3:
Daria's Music on Multicultural Kid Blogs
November 6:
Marie's Pastiche on Multicultural Kid Blogs
November 7:
November 10:

Discovering the World Through My Son's Eyes
November 13:

Our Giveaway
1st Prize Package
US shipping only
From Wisdom Tales:
Children of the Tipi: Life in the Buffalo Days, edited by Michael O. Fitzgerald
The Otter, the Spotted Frog & the Great Flood: A Creek Indian Story, retold by Gerald Hausman
Native Americans, by James Lagomarsino, donated by Discovering the World Through My Son's Eyes
2nd Prize Package
From Lee & Low Books:
Giving Thanks: A Native American Morning Message, by Chief Jake Swamp
Buffalo Song by Joseph Bruchac
Jim Thorpe's Bright Path, by Joseph Bruchac
3rd Prize
Postcard set from Paper Papel Papier: pack of 12 craft postcards decorated with the word himdag (value $18). Himdag is from the O'odham ñiok language of the Tohono O'odham Nation in Arizona and northwest Mexico. To embrace Himdag is to walk in balance, alone, with others, with nature, and with the Creator.
Native American Cultures Linkup
Now it's your turn to share!

The following two tabs change content below.
Marie-Claude is parent of two teen girls. Over the years, they have immersed themselves virtually in various cultures. This year they have been exploring the cultures of West Africa, which is being chronicled on her blog at www.mariespastiche.blogspot.com.
Latest posts by Marie-Claude (see all)