Enjoy these 11 global recipes to encourage your child's innate giving spirit this Mother's Day, compiled by Sasha of Global Table Adventure.
Motherhood means late nights and early mornings. It means loving my daughter so much that it hurts. And it means wanting her to experience the best the world has to offer.
What doesn't often get said is that our children want to give us the world, too.
From their earliest scribbles, to how they toddle behind us wherever we go, our children love us with pure, unquestioning hearts. They constantly reach out to us with simple gifts.
A rock from our neighborhood walk.
A stick they found that looks just like the letter "L."
Those stickers we gave them for Easter? Our children adorn our shirts with the glittery specimens until we look like Christmas trees.
Our children give, and give, and give.
The Gift the Keeps on Giving
Ideally Mom will be able to relax on Mother's Day while her family pampers her with home-cooked food. In American culture, this typically shows up as breakfast in bed. I love this but – even better – I love to eat breakfast outside. The birds are chirping, the sun is bright, the flowers nodding… it's incredibly relaxing.
Cook a memorable Mother's Day
If a child's other parent or grandparents can step in and guide the child through cooking a special meal for Mom, the memories and lesson learned will extend far beyond the initial breakfast, lunch, or dinner.
There is no doubt about it: teaching our children to cook is a gift for mother and child. The child will learn one of the most important (and, sadly, dwindling) skills: how to nourish themselves and their loved ones for the rest of their lives.
This year, try one of these global recipes for a truly special Mother's Day brunch. Expand your horizons – love your mother, love the world.
Depending on the child's age, these recipes will be best made with adult supervision. 
1. Dutch Sprinkles n' Bread | Hagelslag   Here's a breakfast item children of any age can make! Older kids can spread the bread with butter. Even babies can scatter chocolate sprinkles over the top. With this recipe, Mother's Day will be YUM (you can thank the Netherlands for this genius idea)!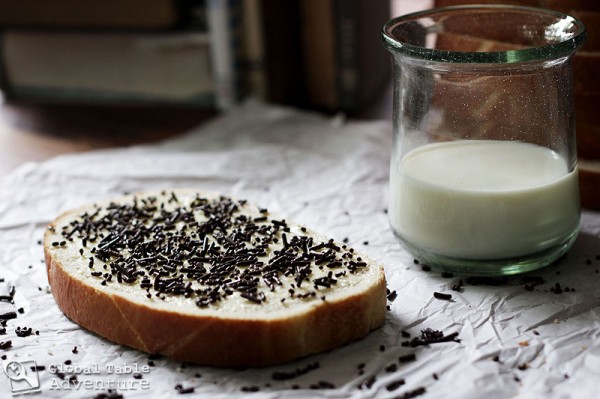 2. Emirati Date Crêpes | Muhalla Whole grain crepes made with fresh dates? There's nothing healthier. Your child can dump the ingredients in the blender and turn it on. They'll love watching it go smooth. Once at the table, they'll love rolling this breakfast treat from the United Arab Emirates up with their choice of fresh fruit, yogurt, honey, or date syrup.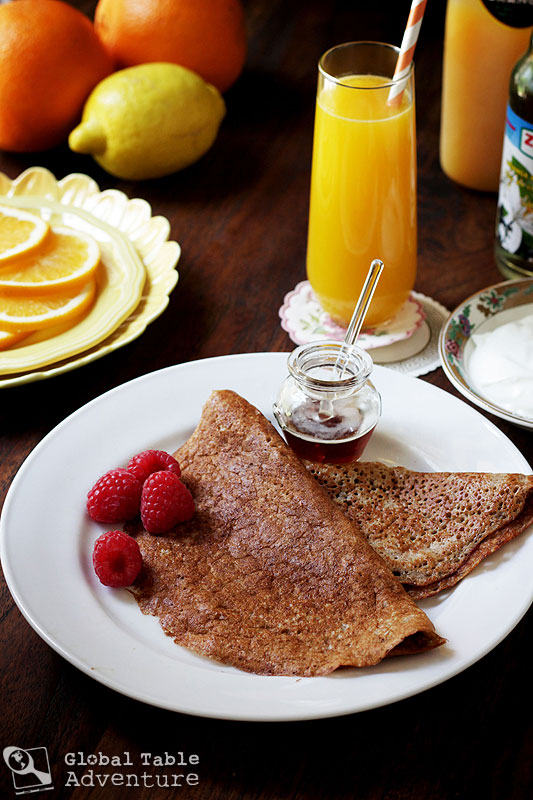 3. Mongolian Carrot Salad To make this recipe child-friendly, use pre-shredded carrots. Children will love whisking the dressing together and tossing in the raisins (heck, it may even convert them to raisin-lovers!)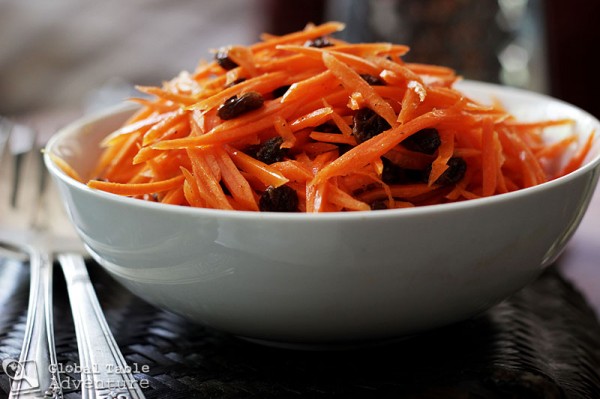 4. Rosewater Lemonade Instead of giving Mom flowers for Mother's Day, share flowers she can drink. This basic recipe is easy enough for a baby to stir and would make a lovely addition to any brunch.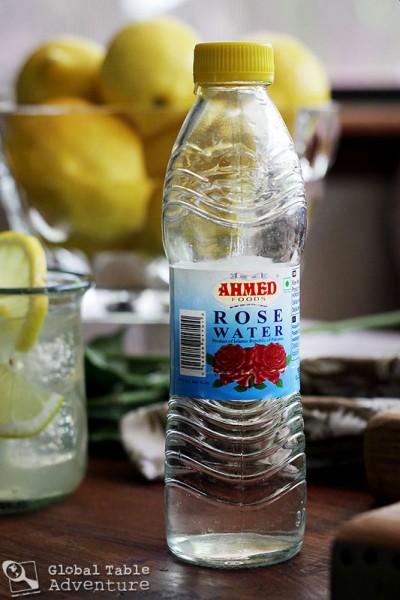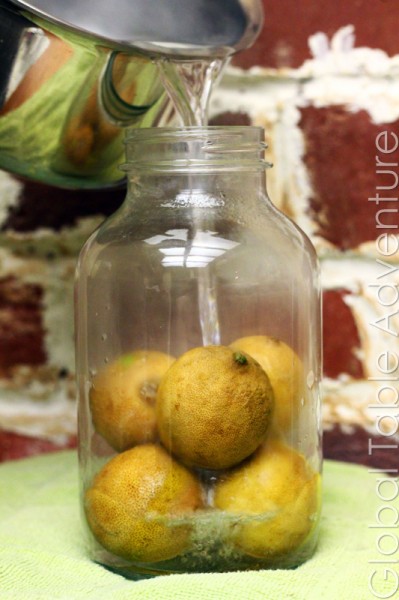 If it's hot enough where you are (I'm looking at you folks in the southern hemisphere or near the equator), your child will delight in setting limes out to dry in the sun. With very little help, Mom will have an exotic ingredient to season her soups and stews.
6. Chocolate Chip Bread Pudding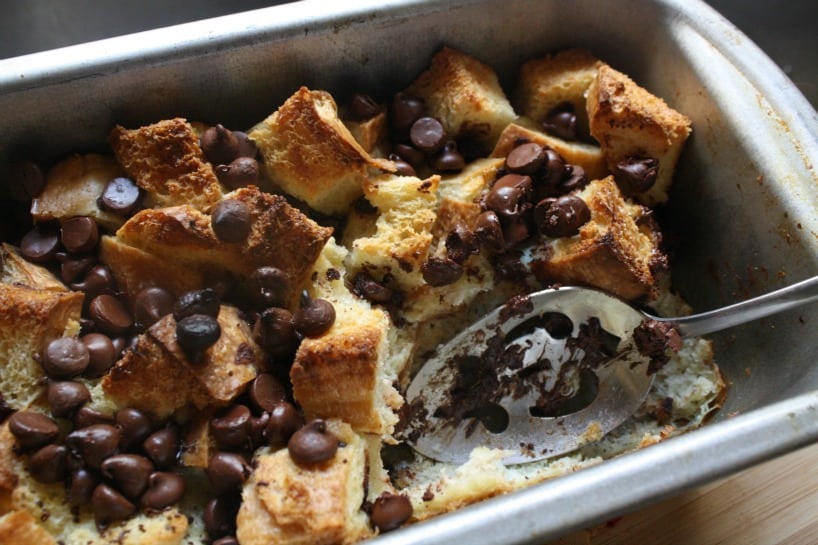 Have kids tear up stale bread and mix up this yummy bread pudding. In no time you'll bake up a sweet treat for a sweet mom!
Adorable!
Forget everyday grilled cheese – try this stone-ground mustard infused cheesy toast.
Need I say more?
I, for one, am absolutely ravenous.
8. Crêpes
Start breakfast with classic French crêpes. Annabelle suggests the following fillings,most of which a child will be able to spread, sprinkle, or scatter:
…a teaspoon of sugar and some lemon juice, but you can also add jam, caramel, nuts and raisins, honey, banana and chocolate, pear, whipped cream and chocolate, … the possibilities are endless. 
Delish!
9. Brigadeiros
Perhaps you'd rather daydream your way to Brazil with these Brigadeiros, small balls of condensed milk and cocoa covered with sugar sprinkles or nuts. They're typically served at kid's birthday parties, and with good reason – they're super fun and easy to make.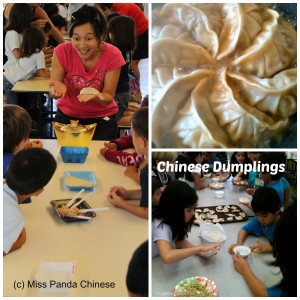 Making dumplings is a family affair As "Miss Panda" says in her post:
One person can pad water to the edge of each wrapper, one person can put the fillings in the middle of each wrapper, then one or more people can seal the wrappers and complete the making of dumplings.
What fun!
Icelandic pancakes are really thin crêpes. Let's spread our still-warm pancakes with whipped cream and jam. I'm certain Mom will approve!
This Mom does… that's for sure!
Spiced with nutmeg, cinnamon, brown sugar, and bananas, these fritters would make a great Mother's Day brunch. Kids will enjoy mashing the bananas – smoosh, smoosh, smoosh.
Awesome!
So, that should get you started… how will you celebrate Mother's Day this year?
xxoo Sasha
Sasha Martin is founder of Global Table Adventure, home to free recipes from every country in the world – a resource for parents, students, educators, and more! Sasha's family spent four years trying more than 600 recipes from every corner of the globe… now they're sharing them with hopes of encouraging families everywhere to experience foods from their global neighbors. We can make the world a friendlier place by connecting over the one thing that unites us: food! Food lifestyles such as vegan, vegetarian, and gluten-free are included, as are celebration recipes, potluck ideas, drinks, desserts, and more!
You can also read other multicultural meal plans in this series and follow our Multicultural Cooking board on Pinterest.
The following two tabs change content below.
Sasha Martin is a National Geographic author and founder of the blog Global Table Adventure. Her mission is to help people spice up dinnertime and cultivate peace in their lives. Readers can enjoy 650+ recipes from every country on her blog - many of which are easy enough for a weeknight and elegant enough for the weekend. She also shares a message of hope and belonging in her debut book, Life from Scratch: A Memoir of Food, Family, and Forgiveness. Her work has been featured in Food & Wine, NPR, People Magazine, Good Housekeeping, O Magazine, and Women's Day. Today Global Table Adventure is a go-to hub for international foodies.
Latest posts by Sasha Martin (see all)