George Washington Carver became one of the most prominent scientists in U.S. history because of his natural gifts and incredible desire to learn. Born a slave, Carver was a sickly boy who was kidnapped and orphaned as a child. Yet despite these disadvantages, he grew up to be a significant historical figure.
Rather than seeking fortune or fame, Carver was determined to make his work accessible to ordinary people, including the poor black farmers in the South to whom he dedicated the bulk of his time and research. Through sheer determination and dedication, Carver became a major force of change in agriculture, industry, and popular culture.
Here are some facts about the life of George Washington Carver to share with your little scientists and world-changers, as well as some activities and resources for further exploration.
This post contains affiliate links.  If you click through and make a purchase, Multicultural Kid Blogs receives a small commission.
George Washington Carver: The People's Scientist

I am not a finisher.  I am a blazer of trails…
Others must take up the various trails of truth, and carry them on.
– George Washington Carver
George Washington Carver was born a slave in 1864 in Missouri, shortly before the end of the U.S. Civil War and the end of slavery.
"George" was the name given to him by his mother; "Washington" is the name he added himself as a young man; and "Carver" was the name of the family who owned him when he was born and who later raised him when he was orphaned.
George lost both of his parents when he was only a baby. His father died in a farming accident while the fate of his mother is unknown. When he was an infant, a group of raiders captured him, his mother, and possibly his sister, most likely hoping to sell them as slaves elsewhere. A tracker sent after them only returned with baby George, for which he was rewarded with a fine horse. George never saw his mother again.
As a boy, he loved to care for sick plants and was called the "Plant Doctor."
He was thirsty for knowledge, so he left home at age 12 to move to a nearby town, where there was a class for blacks.  In the coming years, he would often move to seek out better education, usually doing odd jobs in exchange for room and board.
When he first set out on his own, he called himself "Carver's George," until a mentor advised him to go by "George Carver" instead, to show he was no longer a slave.
He was accepted at a university in Kansas, but when he showed up to register, they saw that he was black and refused him.
He began college in Iowa instead, where at first he aspired to be a painter. One of his paintings won honorable mention at the 1893 World's Fair in Chicago.
He was the first black student and later the first black professor at what is now Iowa State University.
Carver was invited by Booker T. Washington to teach at the new Tuskegee Institute for blacks in Alabama.  George gave up his successful career to move to the Deep South for little pay.
The lab at Tuskegee was so rudimentary when Carver arrived that he and his students had to improvise lab equipment out of bottles, jars, old pots and pans, and even hubcaps!
Carver and the Tuskegee Institute focused on community outreach.  They held an annual Farmers' Conference, a monthly Farmers' Institute, and – for those that couldn't make it to the school – a traveling agricultural wagon (later a truck) outfitted with equipment and demonstrations to bring "scientific farming" to the masses.
George Washington Carver was "green" before it was cool – teaching others to recycle materials and to make the soil healthy.
While he did not invent peanut butter, he did help popularize it and invented nearly 300 uses and byproducts for the peanut and dozens for the sweet potato.  Many of these are still in use today.
In 1921, he testified before a committee of the U.S. House of Representatives in favor of a tariff protecting domestic peanut growers.  He was given 10 minutes to speak but was so engaging he was told his time was "unlimited."
Carver sent a bottle of his peanut massage oil to President Franklin Roosevelt, who suffered from the effects of polio.
Within 6 months of his death, the U.S. Congress passed legislation to create the George Washington Carver Monument in Missouri – the first national monument for someone other than a U.S. president.
He could have added fortune to fame, but caring for neither, he found happiness and honor in being helpful to the world.
– George Washington Carver's epitaph
Activities
Learn more about George Washington Carver with these activities:
Take a field trip, hike, or nature walk: George Washington Carver felt students learned best outside the classroom and frequently took his classes outdoors.
Try a peanut recipe: Carver published many recipes using peanuts.  You can sample some of them on the Tuskegee Institute website or try dishes from a peanut-themed dinner based on his recipes.  I want to try the fudge!
Do an experiment: One of his great contributions was teaching farmers in the South about crop rotation.  The soil in many areas was very poor because of years of cultivating cotton, which took nitrogen out of the soil.  George instead taught them to grow nitrogen-rich plants like peanuts and sweet potatoes.  Science Buddies has an experiment that shows the importance of nitrogen in soil.
Share the knowledge: Carver believed strongly that science should benefit people in practical ways and that it was important to teach the common people.  Think of something you have learned recently. What is a practical way you can put it to use in your life?  How can you share this knowledge with others?
Get involved: Carver was a major force of change in the lives of everyday people.  Catch the spirit by volunteering in your community at a local shelter for the homeless, in a literacy program, or as a mentor for younger students. For more ideas, see this article on service projects for kids.
Resources
Books
There are many children's books about this remarkable man.  Here are a few of our favorites:


George Washington Carver: The Peanut Wizard
is a great book to start with, as its text is simpler and interspersed with a lot of graphics.  It takes the form of a report assembled by a young student who loves peanut butter!  It is fun to read her commentary plus how she ties Carver's story and discoveries into her own life.
George Washington Carver
is a beautifully done biography that tells Carver's story with personal details that really bring him to life for the reader, not just as a great scientist but as a person. It includes many of his own drawings, as well as wonderful photographs.  Written by the Coretta Scott King Honor Book award winner Tonya Bolden.
A wonderful book for older children is The Groundbreaking, Chance-Taking Life of George Washington Carver and Science and Invention in America
from National Geographic.   As a history buff, I love that it puts Carver's life into historical context, with a large ticker-tape-style footer on each page of what was happening in larger society and specifically in the scientific world at each stage of Carver's life.  It is full of details about his life and times and includes a great resource list for young scientists.
Online
Memorials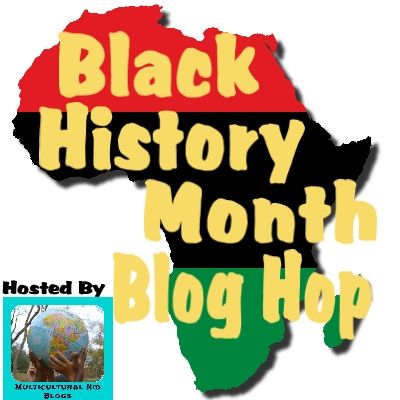 Welcome to our third annual Black History Month series and giveaway! Follow along all month long as we explore the rich history and cultures of Africa and African-Americans. Be sure to enter our giveaway below and link up your own posts at the bottom of the page.
You can also follow our Black History board on Pinterest:
Follow Multicultural Kid Blogs's board "Black History" on Pinterest.
February 1
All Done Monkey on Multicultural Kid Blogs

February 3
The Art Curator for Kids

February 4
Mama Smiles

February 5
Kid World Citizen

February 8
Are Those Your Kids? on Multicultural Kid Blogs

February 9
A Crafty Arab

February 12
Discovering the World Through My Son's Eyes

February 15
Mother in the Mix

February 17
Creative World of Varya

February 19
The Art Curator for Kids

February 22
Crafty Moms Share

February 24
La Cité des Vents

February 26
LadyDeeLG

February 29
Hispanic Mama
Enter the Giveaway!
Grand Prize
From Heritage Box, a starter pack:
Masaai box, journal, postcard album, book, surprise toy, and activity and game sheet US Shipping Only
From Mixed Up Clothing: a Jambo (Swahili) Kids T-shirt US Shipping Only
From Groundwood Books: Malaika's Costume and Viola Desmond Won't Be Budged
1st Prize
From Candlewick Press: Willow and Africa Is My Home US Shipping Only
From Little Proud Kid: Harriet Tubman Puzzle US Shipping Only
From Open Wide the World: Spanish Black History Month educational pack
2nd Prize
From Candlewick Press: Granddaddy's Turn and Jump Back, Paul US Shipping Only
From Rachel Garlinghouse: Homeschooling Your Young Black Child
The following two tabs change content below.
Leanna is a stay at home mother to three sweet, funny, rambunctious children. She draws inspiration from the Writings of the Bahá'í Faith and tries to raise her children in a fun, spiritual, loving environment. She and her husband, who is from Costa Rica, are raising their children to be bilingual and bicultural but more importantly to be "world citizens." Leanna blogs at All Done Monkey and is the founder of Multicultural Kid Blogs.